Custom Metal Tube Fabrication in Burton, MI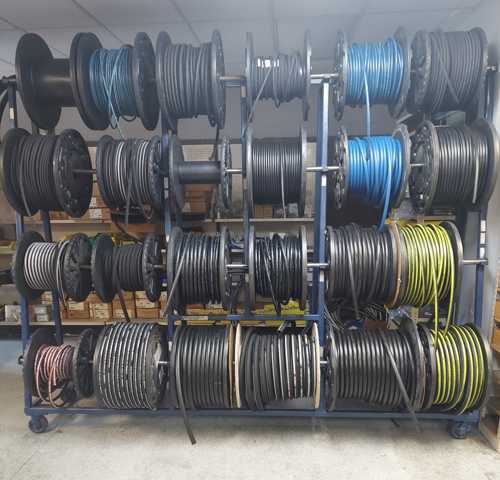 Nelson Hydraulic Service, Inc. is proud to be the leading hydraulic hose repair shop and custom metal fabrication shop serving the greater Burton, MI region. We sell and repair custom hydraulic components and equipment and offer expert assistance to ensure you're getting the best solution for your fluid power needs.
Whether it's a stock product or a custom solution, we'll make sure you get it. Our expertise with custom roll-formed tubes and hydraulics extends to a wide range of industrial categories, including air and multipurpose, cleaning equipment, food industry, material handling, water suction and discharge, and more.
Hydraulic Supplier
We're proud to be the leading supplier of hydraulic eqiupment in the Burton, MI area, offering the hydraulic hoses, fittings and components you need for your assemblies:
Hydraulic Hose Repairs: We repair and sell custom hydraulic hoses. We have hose assemblies for a variety of applications, including construction, agriculture, power generation, paint transfer and more. Our hydraulic hose repair shop has the capabilities to tailor products to exact requirements.
Hydraulic Fittings: We stock the best selection of hydraulic fittings in the Burton, MI area. We carry a variety of standard products and can find hydraulic fittings for any application. High-pressure tube fittings, brass fittings, ball valves and more—we have it all.
Custom Metal Tube Fabrication
Our skilled team can bend, shape, enlarge and cut tubes into a wide variety of products and assemblies. Whether you need custom metal tube faabrication for secondary applications or as a component in a finished product, we can make it. We can even fabricate DOT-approved brake hoses.
Custom Roll-Formed Tubes
We assemble custom roll-formed tubes from a wide variety of metals. We're always ready to help you get started on your metal tubing solution and can produce tubes in many diameters, thicknesses and widths.
Hydraulic Tube Bending
We're the experts when it comes to hydraulic tube bending in Burton, MI. Our staff can bend tubes as you wait in our comfortable showroom. We make custom form hydraulic tubing assemblies that meet your specifications and exacting tolerances. We stock from 3/16″ to 1-1/4″ and have the capability to go up to 1-1/2 on the bends.
Superior Service and Quality Products, Every Time
Nelson Hydraulic Service, Inc. has provided high-quality hydraulic supplies and custom metal fabrication and hydraulic tube bending services to clients throughout Burton, Grand Blanc, Flint, and Davison, MI for over 20 years. Stop by our hydraulic hose repair shop or contact us today at 810-744-0001 for more information.